Past Questions and Answers - The List
Why keep a journal?
Meditation is a great way to take the lid off your jar and examine what you have inside, and then to release, transmute, and clean out your jar of old hurts, misunderstandings, what ifs, if onlys, I'm nots, your definitions of love, anger, and fear and more. By keeping a journal of your meditations, you will have a record of your journey in self-awareness.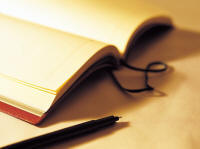 What about keeping a journal?
One of the greatest tools an individual can make use of is the practice of keeping a journal. A journal provides a record of where one has started one's journey and what has developed along the path and provides a picture of where one is at a particular time in one's life.

I have found that after a short period of time, if not immediately, the average individual will start to forget parts or all of his or her experience in the meditative state unless he or she takes the time to record the experience. It is identical to what happens after waking from a dream. More often than not, if the dreamer does not immediately record the dream, even though the dream is strong when he or she wakes up, the memory of the dream is gone by the time the feet hit the floor.

The act of recording in a journal releases the experience to the individual in a tangible way. It seems that written words activate a part of the individual's consciousness which, in turn, sparks thoughts or ideas in the individual, which explain something about what the individual is experiencing at that time in his or her life and gives clues on what the individual can do to bring resolution or change.

What information goes into the journal?
The journal should keep a record of the experience as complete as the individual can remember or it can just hold notes of what the individual can remember. Important things to put into the journal would be
• Sights, e.g., colors, shapes, images;
• Feelings;
• Experiences of being hot or cold or itching or any other sensations;
• Smells; and
• Sounds.

If in a group situation, another important way to solidify the meditative experience is to discuss the experience with other people in the group. This talking about the experience is similar to the activation that occurs when keeping a journal. However, a great benefit of the journal is that one can return at a future time and read the journal. This affords the individual an opportunity to see the change(s) that have occurred along the way.
---
The most powerful thing you can do to change the world is
to change your own beliefs about the nature of life,
people, reality, to something more positive…
and begin to act accordingly.
Shankti Gawain, Creative Visualization
________________________________________________