The Study of "What If?"
Getting to Know Yourself

What if we could live without anxiety, sleep problems, diet problems, depression, and a host of other challenges that make us under-appreciate our lives, our loved ones, and our work?

The study of "what if?" is my approach to helping people understand how to shift into a greater appreciation for themselves. By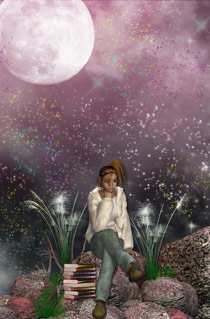 sharing self awareness techniques that I have honed over many years of practice, we search for self understanding.

I believe that everyone must find their own path, so I present "what if?" ideas to provoke thought, self examination, and present "what if?" options to consider with the goal of starting a journey . . . the journey of getting to know yourself.

What if, for example, you unearthed your beliefs about love, forgiveness, time, energy, color, and physical exercise? Where could that lead you?

Breathing and meditation techniques are integral to our study. Breathing cleanses our bodies and souls and reduces everyday stress.

Meditation balances, releases, and allows us to receive. The goal is to reach a level of self awareness within the quiet of a meditative state where we are able to see, hear, and feel ourselves, away from the noise of our physical lives.

Our ultimate goal is to carry our new-found awareness and inner quiet with us
wherever we go.
"The soul without imagination is what an
observatory would be without a telescope."
Henry Ward Beecher, 1813-1887, American Preacher/Orator/Writer
"Man's mind, once stretched by a new idea,
never regains its original dimensions."
Oliver Wendell Holmes Jr
"Welcome frustration.
It is a gift that says we need to change something."
Author Unknown
"Spirit is the life, mind is the builder, and the physical is the result."
Edgar Cayce
"…yet, it's undeniable that to grow from one identity to the next involves destruction. The habits of the old self must give way to the habits of the new." from Deepak Chopra – Peace Is the Way
"If the doors of perception
were cleansed,
everything would appear as it is -- infinite!"
William Blake (1757-1827)
English Poet
"You are being guided either by a conscious intent that you create on a daily basis or by an unconscious intent from your past."
"If you aren't experiencing the life you want, your intent is most likely old, out-of-date, and just not working for you." Debbie Ford

"We are what we repeatedly do." Aristotle
...yearning for a new way will not produce it.
Only ending the old way can do that.

You cannot hold onto the old all the while
declaring that you want something new.
The old will defy the new;
the old will deny the new;
the old will decry the new.
There is only one way to bring in the new.
You must make room for it.
Neale Donald Walsch
[today@nealedonaldwalsch.ccsend.com]

Think Green/Recycle…
Recycling paper...
Recycling one aluminum can saves enough energy to run your TV for three hours!
Recycling tips exercerpted from: http://eartheasy.com/live_recycling.htm

Tips for a Change! Are you up for the challenge? Read more...
Food for Thought..."What can you do right now to turn your life around? Practice Gratitude! 'I breathe in the ability to see what is working in my life and what needs to be changed. I breathe out my fear of letting go. I am filled with courage and excitement that change brings.'"
– Fred Mansbridge
Rose Rosetree can help you read auras in depth and detail, stop picking up other people's pain and more. Books, personal sessions, inexpensive reports, and powerful classes by a leader who works internationally.
www.rose-rosetree.com
Global Consciousness Project
Coherent consciousness creates order in the world
Subtle interactions link us with each other and the Earth
Mary Rau-Foster
Monday Motivating Moments
www.workplaceissues.com
Nancy Ann Tappe - Synesthete and her work on Indigo Children
www.nancyanntappe.com
Tails High
A cage-free cat rescue and adoption organization based in Alexandria, Virginia
http://www.tailshigh.org/home/about-us
Tails High is a foster home-based cat rescue and adoption organization founded and staffed by compassionate volunteers who find joy in placing stray, abandoned, or homeless cats and kittens in permanent loving homes. Tails High is dedicated to helping both rescued cats and their human families by providing wonderful cats to people looking for a sympathetic ear and a soft purr.
The Cardinal Center for Healing
www.cardinalcenterforhealing.com

International Gem and Jewelry Shows - www.intergem.com

Too much clutter?
Contact Miss Clutterbee, LLC, Laurie Steiger, Professional Organizer at beclutterfree@live.com